Just so you know, the above title is what happens when my head is completely music free and I turn to the boyfriend and say "baby, what song is in your head right now?" I'm home. It's lovely. I'm doing laundry with my new washing machine, tidying up, catching up on my RSS feed, and generally marshalling my stuff and thoughts. However, I need to tell you something very exciting.
The new movie club pick is up.
I am depressed about the movie club right now. We seem to have four regular participants, and three of them live in Portland. They watched the last film together and plan to do the same for this. I watched the last film all by myself. Sigh. Soooooo .... if you're in CO and wanna watch an awesome flick, please let me know. You don't even necessarily have to blog about it, although if you want to and don't have a blog of your own I'd be happy to give you a guest post here.
So - the new movie is........
THE GINGERDEAD MAN, parts 1 and 2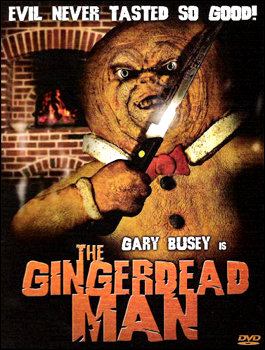 Due date: Sept 14
I know that's pretty quick here, but you can do it. As usual, if you decide to join in, email me a link to your review at emmanationblog at gmail dot com.